End-of-life care in Cornwall 'needs improvement'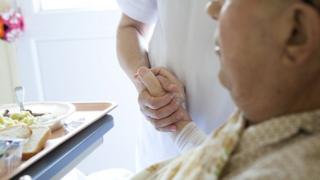 A patient watchdog in Cornwall is urging healthcare providers to improve their end-of-life services.
Research from Healthwatch Cornwall showed people were prevented from dying at home because of gaps in services.
It is recommending healthcare providers develop more choices and support, including evening carers and further training for staff.
NHS Kernow said it was "reviewing its services across the county to ensure they meet people's needs."
It said: "We take end of life seriously and are committed to providing a more effective, efficient and seamless service."
'Very Traumatic'
One widow from west Cornwall, who did not want to be identified, said her 90-year-old husband's end of life care at home was "very traumatic".
"The carers and the agency staff involved were not briefed to our changing situation."
She said one agency staff member who visited her husband "did not know at all how to deal with anything concerning a patient in a hospital bed."
"Why should it become so topsy turvy in the crucial stage? To my mind there seems a lack of communication between departments."
Debbie Pritchard, chief executive at Healthwatch Cornwall said: "We found health services often talked about continuing healthcare but skirted away from directly talking about death.
"We have now made recommendations to health care providers that include the development of a plain English information pack about end-of-life planning."