'Viciously' beaten autistic man 'distraught'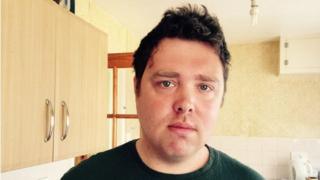 The family of an autistic man who was "viciously attacked" say he remains "distraught" and "mentally affected".
The victim, known only as "Gareth", was repeatedly kicked and punched in a "vicious and unprovoked" street attack in Truro last Friday.
Police say he was "taunted" and beaten by a gang of three men and a woman, after returning from a trip to the shop to buy chocolate.
His sister Kelly Blanks has condemned the attack as "disgusting".
She said: "When he came home he was in a hysterical state and you couldn't get any sense out of him."
Mrs Blanks says it will take a long time for him to regain his confidence as the attack "mentally affected him more than anything".
'Shook up'
Investigating officer, PC Kim James, from Devon and Cornwall Police, said: "It was a vicious and unprovoked attack by a female and three males in their late teens or early 20s."
Gareth was walking past Trafalgar roundabout in Truro city centre at about 20:30 BST when the group approached him.
His mother Sandra said: "He's still very distraught, he's shook up and it's going to take him some time before he can go out on his own again."
Since the attack Gareth's family said he has received lots of support from the local community.
His sister Kelly said: "I'm really surprised, I didn't realise how popular he is. He's obviously got more fans than people that don't like him."
Vaughan Temby from Disability Cornwall said the incident illustrates a worrying trend.
"We hear a number of disturbing stories from people when they've had what we would describe as experiences of hate crimes."
"A lot of people are experiencing verbal and intimidating abuse and harassment."
Police asked anybody who saw the attack to come forward.