Dying dog sparks police helicopter search in Truro, Cornwall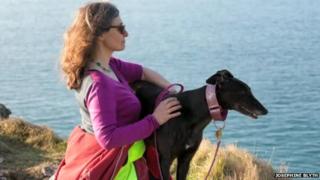 A police helicopter was activated and sniffer dogs let loose when officers were alerted to a "long stream of blood" in a wooded area in Cornwall.
Police mounted an emergency operation for several hours until it became clear the blood had come from a greyhound.
The trail of blood through woods was discovered by a dog walker in Truro, shortly before 09:00 BST on Monday.
The blood came from the greyhound Simp who had been flayed by an abandoned shopping trolley.
'Murderous screech'
A spokesman for Devon and Cornwall Police said they received a report from a dog walker of a "long stream of blood" discovered in Daubuz Moors on the edge of Truro.
The spokesman said: "We were working under the belief that this was human blood and that somebody was seriously injured in the wooded area."
Police officers searched the area on foot and the police helicopter and sniffer search dogs were brought in.
Simp's owner, Josephine Blyth, carried her fatally injured pet for a quarter of a mile but was told by vets the kindest option would be to put the dog down.
She said she heard a "murderous screech" from Simp and found he had his skin ripped off in a stream running through Daubuz Moors.
The police search was stood down in the early afternoon when Mrs Blyth contacted police regarding the incident.