Cornwall Council may introduce new checks after 'child risk' revealed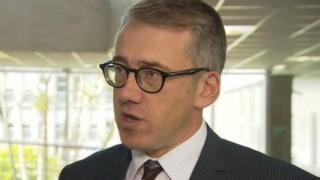 The case of a councillor who represents "a risk to children" could prompt a local authority to introduce enhanced checks for all members.
In 2014 Cornwall Council warned youth groups about councillor Alex Folkes based on a 2006 police investigation into sexual images of children.
In response to an expert review the council is now looking at criminal records checks for all members.
Mr Folkes was not charged and said "no images were found" on his computer.
A new "safeguarding action plan" created by Cornwall Council states: "The council should consider whether this should cover enhanced Disclosure and Barring Service (DBS) checks on all members."
DBS checks replaced Criminal Records Bureau checks in March 2013.
'Cannot prevent election'
The council said it needed to ensure any new proposal "includes a policy on how to handle positive disclosures" where a criminal record was revealed.
It notes, however, that it "cannot prevent the election or continuation in office of any councillor, irrespective of what might be disclosed by a criminal records check".
Council papers note members would apply for DBS checks as individuals and the policy would "require the co-operation of members to be able to operate it effectively".
The council's constitution and governance committee will meet on Wednesday to consider recommending approval to full council of new safeguarding and criminal records policies and a new procedure for dealing with positive disclosures.
Mr Folkes resigned from a cabinet position and from the Liberal Democrats last November when the council sent a letter to schools and youth organisations stating he was "a potential risk" to children.
In January 2015 the council reaffirmed its claim that he was a "serious and enduring risk" to children.
Independent solicitor Alison Lowton made a series of recommendations to the council in February 2015 in a report into its handling of information about Mr Folkes.
Mr Folkes, who remains a councillor for Launceston Central, declined to comment on the new proposed policy.