Cornwall Council's plans for surf school licences criticised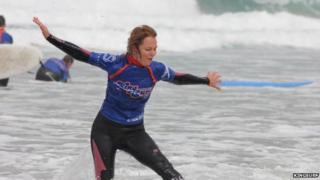 A council's plan to charge surf schools for using the sea has been described as a "scandalous" way to "extort" money.
Cornwall Council is considering issuing licences, some costing more than £2,000 a year, for watersport firms as a way of raising money to keep beaches clean.
Angry surf school owners say they play a vital role in ensuring beach safety and boosting the region's economy.
A move by some councillors to reduce the proposed charges to a flat annual rate of £300 has been rejected.
The scheme, which would cover 13 beaches, would charge about £790 for a single operator and about £2,370 for larger companies.
Chris Rea, from Harlyn surf school, said the proposals were "no more than an additional income tax on small businesses who attract a considerable amount of tourists to the local area".
He said: "Surf schools play a valuable role in beach safety education and provide a free lifeguard service when RNLI lifeguards are off duty or it is out of season."
'Stark reality'
Nigel Abell, owner of King Surf at Mawgan Porth, said: "You heard a great deal about the three poor souls who died on Mawgan Porth beach where we operate. You heard nothing about the other three people who we actually saved quite recently."
He said it was "scandalous that Cornwall Council want to extort over £2,000 a year from our modest income".
Nigel Pearce, Cornwall Council member for Bude, warned the scheme might cost more to administer than raise in revenue.
His proposal for a flat £300 rate was defeated.
The whole scheme will now be discussed by all Cornwall Council members.
Joyce Duffin, cabinet member for Housing and Environment said: "The stark reality is that if we want to maintain front-line services to keep our beaches clean and safe it is only right that the industries that directly depend on the beaches contribute towards this."