Dog is rescued after north Cornwall cliff fall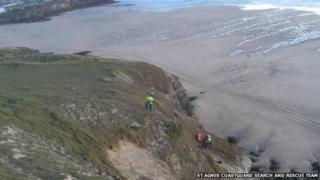 A dog has been rescued after falling down a steep cliff on the north Cornwall coast.
Bee, a labradoodle, tumbled about 20ft (6m) down the cliff at Perranporth before becoming stranded on a loose ledge at about 20:00 BST on Wednesday.
A member of St Agnes Coastguard Search and Rescue team was lowered down to the dog before they abseiled about 80ft (24m) to the beach.
Owner Rachel Budzinska said it had been "very traumatic". Bee was unhurt.
Ms Budzinska said she "couldn't thank them enough" and would be "forever indebted" to the team.
Robert Farr, who saved the dog, said she had been "clinging on and yelping" and he had to "coax" her into a rescue bag so they could safely abseil down to the beach.