Gwithian kite surfer airlifted after injury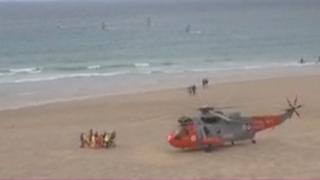 A kite surfer suffered spinal injuries after a gust of wind lifted him off a beach before he crashed back on to the sand.
A helicopter from RNAS Culdrose airlifted the 32-year-old man from Gwithian to the Royal Cornwall Hospital near Truro on Sunday.
Another kite surfer was rescued from rocks at Newquay by the town's lifeboat crew.
He was taken to the harbour where he was treated for minor injuries.