David Alderson murder: Accused Trewen Kevern 'a fool not a killer'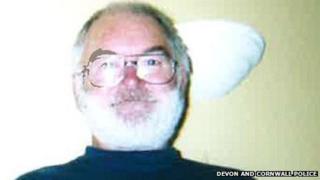 A man accused of murdering a pensioner whose body was found in a disused quarry was "a fool but not a killer", a court has heard.
Trewen Kevern, 21, lied to cover up the killing of David Alderson because he feared co-accused Kevin Cooper, 34, Truro Crown Court was told.
Mr Alderson's beaten body was discovered face-down in a pond at west Cornwall's Wheal Maid mine in January 2014.
Both men deny murder.
The prosecution alleges Mr Cooper, of Poldary View, Carharrack, and Mr Kevern, of Ashfield View, Falmouth, took Mr Alderson to the old quarry and killed him before using his keys to steal around £40,000 from his flat.
Mr Laws, defending Mr Kevern, said only Mr Cooper was involved in the murder and had threatened his client.
He said Mr Kevern had lied to police and covered up what he knew because he was "in fear" of Mr Cooper and "what he might do to his family".
Mr Kevern had "autistic traits, a social phobia and was not hugely bright," he added.
"He has behaved like a fool which has allowed the prosecution to trash him, but it does not prove he is guilty", he said.
The trial continues.