Father jailed for rape of wife and sex assault on daughter, 2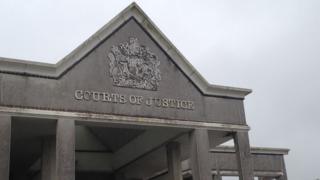 A father has been jailed for 20 years for sexually assaulting his two-year-old daughter and raping his wife.
The man, who cannot be named for risk of identifying his victims, was also convicted of cruelty to children, sexual assault and threatening to kill.
Sentencing at Truro Crown Court, Judge Christopher Harvey Clark told the man his offences were "truly sickening".
The man was originally tried for 16 offences and was found guilty of nine.
'Potentially devastating'
Referring to the man's assault on his daughter, the judge said: "By any standard that is a truly sickening offence."
The judge said the "green-eyed monster" of "irrational" jealousy had led to the man's attacks on his wife.
The jury heard evidence of "protracted ill treatment" towards young children who may now suffer "potentially devastating psychological consequences".
The offences, which included two sexual assaults on two other women, took place between 2009 and 2014.
The man, from north Cornwall, was sentenced to seven years for one count of rape and seven years concurrent for a second count of rape, with two years concurrent for each of two counts of making threats to kill.
He was jailed for 11 years consecutive for sexual assault of a two-year-old and two years consecutive for cruelty to a child. He was sentenced to a further two years concurrent for a second offence of cruelty to a child.
He was given concurrent sentences of one year each for two charges of sexual assault.
The jury failed to reach a verdict on the third rape charge and were released from deliberating further. He was found not guilty of a third count of making threats to kill, a third charge of cruelty to a child, two other sex assaults and two counts of exposing himself.