St Agnes men 'forced to live' in DIY straw home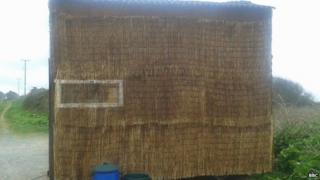 Two men are living in a homemade straw house because they claim they cannot afford Cornwall's rental prices.
Brothers James, 26, and Aaron Aldred, 20, built their new home in St Agnes, from the base of an old trailer, recycled wood and straw.
Their novel approach has met with some opposition from local residents.
Pete Mitchell, councillor for St Agnes, said he had received "a lot of complaints" and the matter had been referred to the Enforcement Team.
The brothers decided to construct their own home, which took four weeks to complete, after being given notice on their rental property.
James said the inflated seasonal rates gave them no option.
"Rent was normally £750 per month but we couldn't find anywhere for less than £1,000 with the summer coming," he said.
'Should be praised'
The men, who moved down from Manchester in 2013, wanted to stay in the area to be near their mother and made checks to try to find a piece of land that had no claim against it.
James and Aaron now live on the edge of a field on the outskirts of the village, but plan to return to a bricks and mortar house in winter.
"I think what we've done should be praised, it's economical living, especially with our electricity being off-grid," James said.
"Everyone I've spoken with seems to be okay with what we're doing."
South West rent facts
Rents in the South West have gone up by more than 15% in the last 12 months
The region has the highest average rental prices in the UK, outside London and the South East
Private tenants pay an average of £877 per month in the South West
Source: Landlord's insurance firm HomeLet
Brian Moore, an independent housing specialist, says the region has "always had a housing problem" with factors such as low wages, seasonal workers and high house prices playing their part.
"It's a retirement area, people with money are moving in and local people are at the bottom of the heap sometimes," he said.