Culdrose crewman Russ Adams gets medal for saving fishermen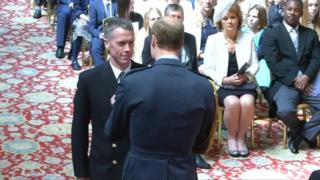 A Royal Navy crewman who risked his life to pluck five French fishermen from stormy seas has received a medal for his bravery.
Petty Officer Russ Adams, based at RNAS Culdrose in Cornwall, was awarded the Queen's Gallantry Medal.
PO Adams was winched into the sea to rescue the men after their trawler was disabled by a huge wave off Newquay.
He was part of the crew of a Sea King helicopter sent out to rescue the fisherman in February 2014.
The fishermen had to jump into the sea to be rescued as it was too risky for to attempt to pick them up from the powerless boat, which was being pitched and tossed in the rough seas.
PO Adams, from 771 Naval Air Squadron, said: "To be honest we felt bad for the fisherman, they were in a horrendous situation they probably hadn't been in before, and we do a lot of training and practice for these events.
"I was attached to the aircraft and we were asking them to jump in the sea not attached to anything, so they were way more worried than we were - they just had to trust us."
He was given the medal by Prince William at a ceremony at Windsor Castle.
PO Adams said the prince's former role as an RAF search and rescue helicopter pilot would have seen him fly similar missions and gave the ceremony added significance.
He said: "We both know the job so that made today something special."