Callington College failed to stop homophobia and racism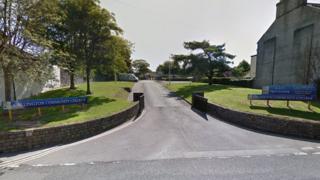 A Cornwall secondary school has been put in special measures following an inspection that highlighted homophobic and racist attitudes among pupils.
Callington Community College was first criticised in January and inspectors who returned in March said it was still failing to safeguard students.
The college has been rated inadequate after being rated outstanding at its last inspection in 2012.
The college said it was "working extremely hard" to improve.
Ofsted will now be monitoring its improvement in a plan being developed by staff and governors.
In the latest inspection, Ofsted found:
Governors do not understand, or carry out, their statutory duties
Governors have failed to respond with any sense of urgency following the serious safeguarding concerns raised during the inspection of the college in January 2015
Safeguarding arrangements do not meet statutory requirements
Standards across the college have declined since the previous full inspection in 2012
Leaders during this period failed to recognise and halt this decline
The most able students, in particular, do not achieve high enough standards.
Principal Sean Morris said: "Our focus is on keeping our students safe, happy and successful and we are committed to improving the quality of safeguarding practice across the college.
"We believe that Callington is still a very good place for children to be educated."
The college plans to hold a special meeting for parents to discuss the inspection report.
Chair of governors Mark Duddridge, said: "We will be working to put right the situation we are currently in and will leave no stone unturned in our attempt to do so."