Cornwall air ambulance in hospital landing delay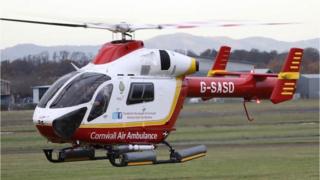 An air ambulance was delayed in landing at the Royal Cornwall Hospital because staff there had not made the helipad safe, it has emerged.
The air ambulance said it believed the incident on Sunday was the first of its kind since the helipad opened in 2004.
Hospital staff lower barriers and stop pedestrians and vehicles passing through the landing aread.
The hospital said the aircraft had arrived more quickly than expected and had been delayed for about a minute.
Cornwall Air Ambulance said there had been a "short delay" before the aircraft could land.
It said the crew had called ahead as usual but on arrival there was a delay while the helipad area was properly secured.
It said because the helicopter lands so close to the hospital, it must not land until the area is safe, from the point of view of the patient, members of staff and the public.
The BBC understands that staff were called and responded within two minutes and the delay of about one minute was because the helicopter got there quicker than expected.
And securing the helipad was the responsibility of the security team who are employed by private firm Mitie, which took over services like cleaning, catering and portering last autumn.
In February, Mitie was fined after failing to meet required standards in cleaning and catering at Cornwall's three main hospitals.
A spokesman for the Royal Cornwall Hospitals Trust said: "We are aware of a short delay due to the earlier than anticipated arrival of the air ambulance. The security team was deployed as normal to make the landing area safe. The patient's care was not affected."