Warning as three landslides hit coast of north Cornwall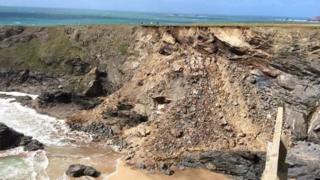 Chunks of cliff weakened by prolonged rainfall have collapsed at three separate sites.
Cornwall Council has warned of more possible landslides following the collapses along the north coast of Cornwall in the past week.
The cliff gave way near Treyarnon on Thursday with earlier cliff falls near Trevone and Morwenstow.
The South West Coast Path has been moved further inland in the affected areas.
Leroy Chandler, who runs the Trethias Farm campsite at Treyarnon, said: "There are still pieces half-way down the cliff that haven't gone all the way yet."
A Cornwall Council spokesman said the public should "be vigilant and avoid resting underneath cliffs or straying towards the seaward side of the coast path".