David Curnow: Accused 'shook hands' after soldier's death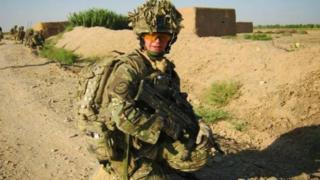 Two men "shook hands" over the body of a soldier killed in an attack after going to a Cornish nightclub, a jury has heard.
David Curnow, 20, died following "a disturbance" after leaving The Zone nightclub in Redruth on 21 September.
Truro Crown Court heard he "went to the ground three times during the attack".
Liam Laing, of Brookside, Chacewater, previously admitted murdering him. Connor Hammond, 21, of Johns Park, Redruth, denies murder.
'Never regained consciousness'
The court heard Mr Curnow left the nightclub at almost 03:00 BST with four other people.
Prosecutor Simon Laws said that what happened to Mr Curnow was "simple bad luck".
"It was a case of two young men using unnecessary violence. If it wasn't Dave Curnow it could have been someone else," he said.
Mr Hammond and Laing left The Zone at around the same time and appeared behind David Curnow and his friend Lee Griffiths, the court heard.
The jury was told Laing and Mr Hammond ran at Mr Curnow before Laing struck him with a punch to the cheek which knocked him off his feet.
Mr Laws said it was a serious assault and "Mr Hammond had choices".
He added: "He could have restrained Laing, [but] he joined in the assault on Dave Curnow."
At one point Mr Hammond had Mr Curnow in a headlock while Laing hit him, the jury heard.
Mr Laws said CCTV footage showed Laing and Mr Hammond shaking hands over David Curnow's body as he lay in the street.
The court was told that Mr Curnow, a Rifleman who served in 4 Rifles Battalion, never regained consciousness after he was picked up by ambulance and taken to the Royal Cornwall Hospital.
The trial continues.