'Animal lover' Jonathan Champion jailed for dog cruelty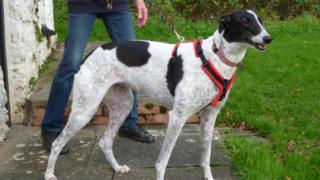 A man who claimed to be an animal lover has been jailed for cruelty to 14 dogs in one of the worst cases ever seen by a vet.
Jonathan Champion left the dogs "emaciated, diseased, flea-ridden and injured" at his caravan in Cornwall.
A greyhound in his care had an untreated neck wound and became "a walking skeleton", Truro Crown Court was told.
Champion, 43, who lives near Callington, was jailed for four months.
'Truly terrible'
Both Champion and his partner, Amanda Miles, 42, were previously found guilty in their absence at Bodmin Magistrates' Court of five counts of causing unnecessary suffering to animals, in June and July of 2015.
Judge Christopher Harvey Clark said the lurchers, mastiffs, terriers and German shepherds were found in a "truly terrible state".
He disqualified Champion from keeping dogs for life.
Emmi Wilson, for the prosecution, said Champion used Dettol to try to rid the dogs of fleas.
The vet who examined the dogs said a greyhound called Flora with a wide cut to her neck was "a walking skeleton".
Chris Andrews, for the defence, said Champion "would describe himself as a dog lover".
He said Champion and Miles had taken in the animals but became unable to cope due to financial problems.
The couple gave the dogs to rescue charities which contacted the RSPCA when they saw the condition of the dogs.
Champion had previously been disqualified from keeping dogs for three years following a conviction in June 2011 for cruelty to a pitbull.
Miles was previously sentenced to 70 days in prison, suspended for 12 months for animal health offences.
Champion also admitted breaching a two-year suspended sentence from September 2014 for the possession of cannabis but the judge did not impose any further punishment for the breach.