Cornwall launches dark sky park bid for Bodmin Moor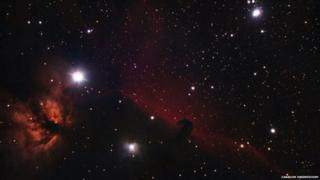 The "exceptional night sky" over Bodmin Moor could help it achieve international dark sky park status.
If the bid by Cornwall Council is successful, a two-mile (3km) buffer zone will be created around the moor's existing area of outstanding natural beauty, to discourage light pollution.
The council has launched a month-long public consultation to garner local people's views.
The status is comparable to that of a World Heritage Site.
There are three international dark sky parks in the UK - the Elan Valley Estate in Wales, Galloway Forest Park in Scotland and Northumberland National Park and Kielder Water and Forest Park in England.
'Amazing' light show
The council says measurements taken by the Caradon Observatory indicate its night sky has some exceptional conditions.
"If you ever go out and allow yourself 10 minutes for your eyes to become perfectly night adapted, you suddenly realise what an amazing light show there is up there," Mike Wilmott, the observatory's director, told BBC News.
The plan is also being supported by the Campaign to Protect Rural England (CPRE).
Director Anita Grice-Goldsmith said: "Bodmin Moor is an incredible place and being granted dark sky status would protect its beauty for people and wildlife alike."
About a hundred people attended the launch of the public consultation at Bodmin Moor's Jamaica Inn - made famous by author Daphne Du Maurier - which included a presentation of celestial images taken on the moor.
If there is sufficient public support, the council will submit its bid this summer and people and businesses in the surrounding area will be given advice on how to limit light pollution.
"No-one would be required to change their lights," the council's Edwina Hannaford said.
"It's simply about encouraging people to turn off unneeded lights... and having lighting that's fit for purpose."