Call to raise allowances for Cornwall councillors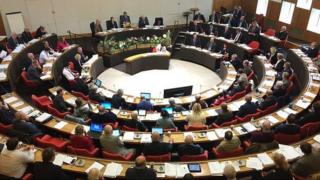 Cornwall councillors should get a rise in their allowances of more than £1,600 according to an independent report.
Councillors have not received a pay increase for four years and currently receive £12,249.68.
It is now being recommended that the amount they receive should rise by 13.56% to £13,910.54.
The recommendations from the independent remuneration panel will be voted on at a meeting of the full council later this month.
County councillor for St Ives, Tim Andrewes, said the increase could encourage more people in Cornwall to stand for a seat on the authority.
"Is the allowance rate at the moment putting people off from putting themselves forward to be councillors?
"What we want is a council that is representative of all the different, diverse backgrounds and experiences that make up the people of Cornwall."
But the chairman of Towednack Parish Council in west Cornwall, Kevin Hughes, has criticised the proposal.
"I didn't get any allowances when I was a town councillor", he claimed. "You're a councillor for the community."