Anger over broken glass and nails left on 'beautiful' island beach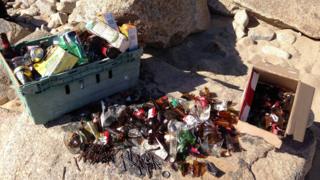 Isles of Scilly police officers have expressed their anger after collecting litter capable of causing "serious injury" from a beach.
Officers said they spent an hour collecting broken glass and burnt nails from Porthcressa Beach.
The entire Isles of Scilly are a designated Area of Outstanding Natural Beauty.
PC Mat Crowe said: "What we found on the beach could cause serious injury to all."
Officers said "despite their best efforts" glass could remain under the surface of the sand.
Another officer, PC Nic Gould said: "Litter is not generally an issue on the islands. Unfortunately, there has been a small minority of people who have socialised on the beaches late at night, and have failed to clean up after themselves, and this is not acceptable.
"All we ask is that people act responsibly and clean up their mess, so the Islands can be enjoyed by everyone."