Royal Cornwall Hospital Trust eases alert from black to red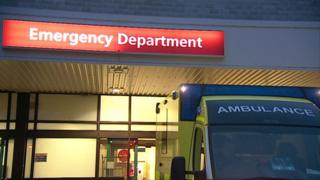 A hospital trust in Cornwall has reduced its alert level from black to red.
The Royal Cornwall Hospitals Trust (RCHT) said the "situation had eased" after "another great response from staff".
"We are still under pressure with a high number of patients presenting to our emergency department," it said.
Last Friday it said it could only admit people who needed "critical care" amid "pressures on all parts of the system".
What is a black alert?
The NHS uses a national internal alert system based on the colours green, amber, red and black to rank how busy a local health and social care system is
Black alert status occurs when a hospital cannot cope with the number of people coming into the accident and emergency department because not enough people are being discharged
It effectively means the hospital does not have enough bed capacity to cope