Four in boat 'lucky to be alive' after Tresco sea rescue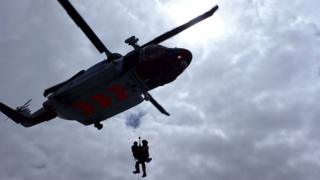 Four people are "lucky to be alive" after they were airlifted to hospital when their boat became swamped by a huge wave off Cornwall.
RNLI coxswain Pete Hicks said the small open boat "pitch-balled" after hitting the wave around the island of Tresco just before midday on Sunday.
Three passengers were thrown on to the rocks, while the fourth was rescued from the water by a pleasure boat.
"He would certainly have perished", the skipper of the boat Andy Howells said.
Get more updates on the rescue and other stories here
"We spotted somebody in the water shouting for help and you could see he was going to sleep, and I thought we've got to go and get him," Mr Howells, a former coxswain with St Mary's RNLI Lifeboats, said.
He has been praised for his live-saving actions by the RNLI.
All four casualties were taken to the Royal Cornwall Hospital but the extent of their injuries is currently unknown.