Man rescued as fishing boat catches fire and sinks in Bude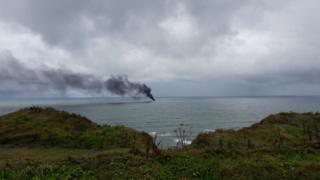 A man has been rescued after a fishing boat caught fire and sank off the coast of Cornwall.
RNLI crews raced on jet skis to the vessel which was in distress off Widemouth Bay, near Bude.
One eyewitness described black smoke coming from the small fishing boat, about a mile offshore.
The rescued crewman, who was the only person on board, was taken ashore and is safe and well, coastguards said.
Updates on the boat fire, and other stories from Cornwall
James Instance from the UK Coastguard said: "This could have been a very different outcome today had he not been wearing a lifejacket and we commend his actions, which have assisted in saving his life."