Pilot died after aborted landing at Newquay Airport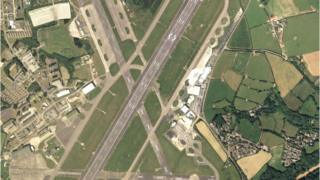 An experienced pilot was killed when his plane nosedived into the ground after an aborted landing, an investigation said.
Tony Richards, 68, from Falmouth, died when his twin-engine Piper Seneca crashed at Newquay Airport.
He had flown with two stops from the Czech Republic and told air traffic controllers he had had a "long day".
The plane bounced on landing, hitting the right propeller on the tarmac before climbing and then dropping.
Read more on the plane crash and other stories from Devon and Cornwall
'Steep descent'
A report by the Air Accidents Investigation Branch said Mr Richards had bought the plane in the Czech Republic.
Several days later, at 07:55 on 17 August last year, he had taken off from Pribram Airport, before flying to stopping at Prague Airport and Biggin Hill near London.
He took off from Biggin Hill at 16:34 for Newquay and Mr Richards contacted controllers there at about 18:15.
"The aircraft bounced on landing and a go-around was initiated," said the report.
"At some stage during the touchdown, the right engine propeller blades contacted the runway."
After abandoning the landing, the aircraft climbed to about 150ft (45.7m) before plummeting to earth.
"The aircraft was then seen to yaw [bank] to the right and enter a steep descent, before impacting the ground," said the report.
It said that Mr Richards had taken training on the plane in the Czech Republic and a trainer had flown with him to Biggin Hill.
The weather was fine and there were no problems with the aircraft said the report.