Climbing Cornish sand cliffs 'could kill instantly'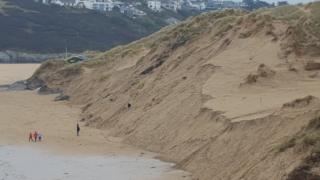 Climbing on sand cliffs created by recent storms "could cause loss of life", according to coastguards.
Storm Eleanor shifted tonnes of sand to create new landscapes on beaches across Cornwall on 3 January.
Newquay Coastguard said the 65ft-high (20m) sand dunes on Crantock Beach near Newquay could "collapse" without warning.
The National Trust, which owns the beach, said they were consistent with a "constantly changing dune system".
More Cornwall and Devon stories
Newquay Coastguard said "clambering" on the sand cliffs should be avoided by the public because they are "unstable".
This was echoed by Coastsafe, a police-led initiative in Newquay, which added: "If the sand collapses with a person on it, the weight could kill instantly or bury you underneath suffocating you."
Other sand cliffs on Cornish beaches created by Storm Eleanor, including Perranporth Beach and Summerleaze Beach in Bude, have been flattened.
In a statement, the National Trust said the scale of change at Crantock is "not unprecedented" and similar to that seen after the storms in 2014/2015.
"It looks dramatic with steep edges and presents a hazard which requires visitors to take extra care," the trust said.
It said additional warning notices had also been put on the beach.
One local dog walker, who did not want to be named, said the sand cliffs at Crantock were "worse than ever".
She said: "That used to be about 10ft (3m) in the winter, the last two or three years. Now, it must be about 25ft (7m) high up there I should think.
"If people haven't been to Crantock for a few years, you used to come running over the top and straight down. They could now come running over the top and right over the edge."