Mullion Harbour future in doubt after landslide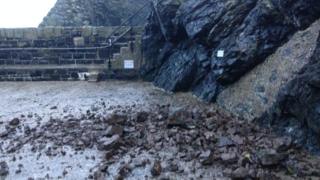 The future of a 19th Century harbour is in doubt after a landslide damaged a section of the breakwater.
The National Trust has warned people to stay away from Mullion Harbour on Cornwall's Lizard Peninsula, after a section of the harbour was dislodged.
It said further rock falls were "imminent" with "potentially hundreds of tonnes of rock on the move".
Further damage would mean repairs to the harbour would be "unviable" at a point in the future, it warned.
The trust said on Facebook: "Until we can get the stability of the slope assessed, it is too dangerous to access this part of the harbour."
The trust's lead ranger on the Lizard Peninsula, Justin Whitehouse, said the area would remain closed as a precaution while engineers assessed the stability of a large section of rock above the harbour.
"We've got more heavy rainfall due tomorrow so I expect there will be more rock coming down," he added.
"It will go. Inevitably that huge chunk, a few hundreds if not thousands of tonnes of rock, will slide off the cliff."
Mr Whitehouse added: "Every year we're spending significant amounts of money, doing maintenance, small scale repairs, but it's of an understanding that at some point in the future there will be significant damage to this harbour where it becomes unviable to undertake further repairs."
Built in the 1890s, the harbour at Mullion Cove has traditionally sheltered a small fishing fleet from westerly storms.
The harbour was damaged in storms during 2007, 2012 and 2014, with repairs estimated to cost hundreds of thousands of pounds in 2014.