'Highly dangerous' ammunition boxes found in Cornwall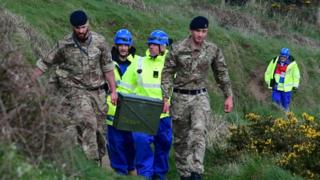 Two boxes of "highly dangerous" live ammunition have been found on beaches in Cornwall.
The green boxes containing 20mm rounds were found by members of the public on different beaches at the weekend.
The police are warning people not to tamper with what they believe to be anti-aircraft shells and say more boxes may wash up.
The Ministry of Defence (MoD) is investigating where the boxes have come from.
The first find was by a member of the public on Porthbeor Beach on the Roseland on Friday 13 April.
The person took the box home before contacting the police the next day.
The second box was discovered at Vault beach near Gorran Haven on Sunday 15 April.
The person who found it alerted the Mevagissey Coastguard who attended and waited for the Royal Navy's bomb disposal team.
Insp Rick Milburn from Devon and Cornwall Police warned people to keep away from the boxes if any more are found.
"There is a temptation for children to play with them, pull them apart, try to dismantle them or put them in the fire, but these are highly, highly dangerous" he said, adding "We need people to remain vigilant."
The Ministry of Defence (MoD) said investigations had only just begun and, at this stage, it did not where the boxes have come from.
It added that they were not necessarily Royal Navy shells and they could have been from any navy in the world which had come to to the UK to train.