Tree surgeon fined over car smash near Truro primary school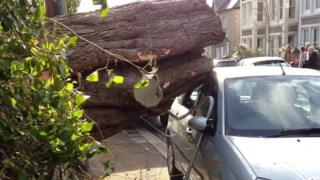 A man who caused a tree to smash into a car near a primary school has admitted putting people at risk from harm.
Tree surgeon Tobias Smith, 33, attached a rope from the tree to the back of his work truck and drove down Carvoza Road in Truro, Cornwall, in March 2017.
He pleaded guilty at Truro Magistrates' Court to failing to ensure people were not exposed to risks.
Smith, from Stithians, Cornwall, was fined £615 and must pay £1,000 in costs to the Health and Safety Executive.
The tree smashed through a wall and into a car parked on Carvoza Road, near Archbishop Benson Primary School.
Smith had been working with a team dealing with the 50ft tall (15.2m), 80 year old Monterey cypress.
The 15ft (4.5m) section of the tree fell but not in the intended direction and narrowly missed power lines.
Nobody was injured in the incident.
The prosecution told the court Smith was not sufficiently qualified to handle a job of this type and scale.
Sentencing, Georgina Higgs said the harm "could have been severe if it had hit a person or vehicle".
Smith said he had two people looking out to keep pedestrians away, as well as children who may have been leaving the nearby school.