Plane turns back to Newquay after windscreen cracks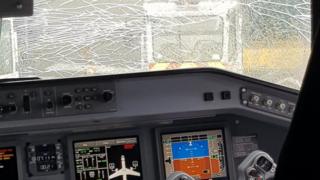 A plane was forced to turn back after a crack covering the windscreen in the cockpit appeared.
The Flybe service was heading to London Gatwick from Cornwall Airport Newquay at 07:35 BST on Tuesday when windscreen's "outer layer" was damaged.
The Embraer 195 aircraft carrying 92 passengers was at 12,000ft (3,750m) at the time, as reported by Cornwall Live.
The airline said the plane landed safely at Cornwall Airport Newquay and transport was arranged for passengers.
Passenger Ray Ellis, who was heading to a business meeting in London, said: "The plane slowed down a bit, then they made an announcement that there was a crack in the windscreen and they had to return to Newquay.
"No fuss was made, no drama, all very professional."
Road transport to Gatwick was arranged for the passengers.
Flybe said the plane "returned from airborne following a crack appearing in the outer layer of its windscreen.
"The safety of its passengers and crew is the airline's number one priority and Flybe apologises for the inconvenience experienced."
A replacement plane was brought to Newquay to cover Gatwick flights for the rest of the day, an airport spokesperson said.