Starving puppy found in Nuneaton tied to a tree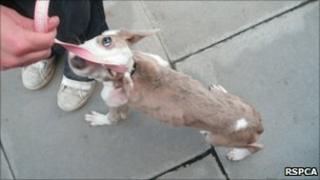 A starving 12-week-old puppy has been found tied to a tree in Warwickshire in bitingly cold winds and rain.
The lurcher/whippet cross was spotted by a passer-by, tied-up opposite the Cherry Tree pub, by Haunchwood Road in Nuneaton at about 1500 GMT on Monday.
"He would not have survived the night in the cold," an RSPCA officer said.
It is a criminal offence to abandon an animal in a way that is likely to cause suffering. The RSPCA is appealing for information.
The creature was found soaked and in a "severely malnourished" state, the charity said.
Temperatures that day were between 2C to 6C with winds of between 6mph and 8mph, the Met Office said.
'Indefensible action'
RSPCA inspector Helen Smith said: "I am appalled by this abandonment.
"It is indefensible for anyone to discard any pet by tying them up to a tree, or a fence or by a road and leaving them to it. What sort of person considers this to be acceptable behaviour?"
The RSPCA said it had reason to believe the puppy belonged to someone in the Stockingford area of Nuneaton.
Star, who has been named after a white star shape on his back, was found wearing a black plastic collar with silver metal studs and a blue clip-on rope lead.