Power cut hits about 500 homes in Stratford-upon-Avon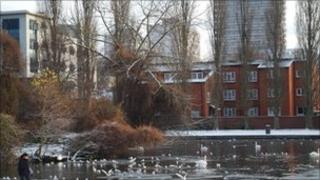 About 500 homes were affected by a power cut in a Warwickshire town as temperatures across England plummetted.
The Stratford-upon-Avon homes lost power at about 0600 GMT.
Scott Somerville, from Central Networks, said engineers worked as quickly as possible to restore power.
It is believed the cut was caused by a high voltage problem, but it was not known whether this was caused by the cold weather.
Mr Somerville said: "Engineers are out there, they are doing everything they can to get people back as quickly as possible.
"There's clearly never a good time for a power cut at all but on days like today this is obviously more important."
Coventry and Warwickshire saw snow fall overnight, but many places saw less than 3cm (1in).