Kent man jailed for seven-year abuse of Coventry boy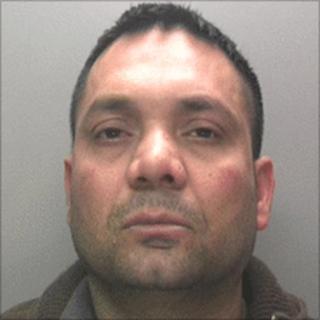 A man has been jailed for 14 years for abusing a boy over a seven-year period.
Rajwinder Singh Dhami was convicted on 23 counts including the rape and indecent assault of a child under 16 while he lived in Coventry.
The judge at the city's crown court told him it was obvious that he had groomed the boy for his own sexual gratification.
The 35-year-old, from Whinfell Way, Gravesend in Kent, wept throughout his sentencing.
The offences took place between 2004 and 2010 and started when the boy was seven.
The court was told that the victim had suffered flashbacks and nightmares along with a feeling of worthlessness and had self-harmed.
Dhami collapsed as he was given his sentence. He was also placed on the sex offenders register for life.
Investigating officer Det Con Helen Waite, of West Midlands Police, said: "The victim in this case has been extremely brave to come forward to the police and to partake in the court case by telling us about the traumatic experience he endured for a number of years.
"The sentence passed reflects the gravity of the offences."