Multi-instrumentalist Chris is our Band of the Month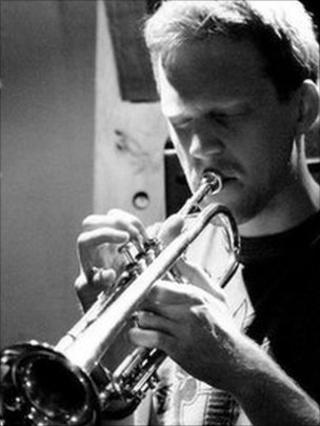 BBC Introducing is all about unsigned musicians and the latest musician to be spotted by BBC Introducing in Coventry and Warwickshire is Chris Walmsley.
Unlike many of our artists, he doesn't have anything to plug.
Originally from the south coast, Chris grew up with a musical family and was surrounded by a wide range of styles.
This multi-instrumentalist is a medical student at the University of Warwick by day, but by night plays the folk clubs throughout Coventry and Warwickshire.
Student doctor
Despite currently studying to become Doctor Walmsley, Chris also studied for a Graduate Diploma in Jazz down the A45 in Birmingham. However, it was while studying Biochemistry at university in Bristol that Chris got the taste for playing in the clubs and bars that the city has to offer. This continued when he moved to Coventry in September 2008.
When he's not got his medical hat on, Chris can be seen with his guitar, keyboard - or trumpet - at various folk and acoustic clubs in Coventry and Warwickshire. Going back to his days of playing in the school Big Band, and later the Warwick University University Big Band, he can accompany and improvise with others at ease. Over the years he has played in a number of groups, including a rock and roll band called The Cheese Doctors, jazz bands and the Birmingham Conservatoire Folk Ensemble.
Randy Newman
His repertoire varies from covers of classics, such as Wichita Lineman to Bob Dylan's Make You Feel My Love, and also songs by one of his favourite composers, Randy Newman. He also pulls together all of his musical influences to compose his own material, such as Half a Chance and I Don't Hate You Anymore Blues. Many of these were recently filmed for his website when he appeared as a guest at Warwick Folk Club.
The usual instrument line-up at a folk or acoustic night usually includes many guitars, the odd mandolin and possibly a keyboard or accordion, but very rarely a trumpet! If his accomplished piano and guitar work didn't get you, his trumpet skills surely will! And he doesn't run the risk of someone else playing the trumpet and doing the same tune after he's done 'his turn'!
To find out more about Chris Walmsley, visit his website by clicking on the link below:
How to get featured
BBC Coventry & Warwickshire's Band of the Month feature aims to showcase the best local musical talent. Songs by our featured artists will be played on Introducing with Martin Winch every Friday and Saturday (2000-2100).
If you think you and/or your band are worthy of a feature then contact us.
Email the details to us here at BBC Coventry & Warwickshire:
Or use the postal address:
Martin Winch, BBC Coventry & Warwickshire, Priory Place, CV1 5SQ.
All we require is a short biography, a couple of decent quality colour images (in jpeg format) and a copy of your music. If you are emailing your music then please ensure we receive them as mp3s.