Rev James Canning praises Foleshill diversity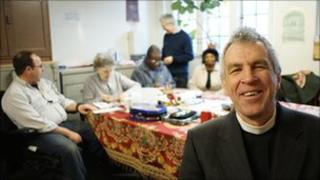 A vicar, who left the Lake District for Coventry, says his diverse community is a "microcosm of the world".
Rev James Canning has been the vicar of St Paul's Church on the Foleshill Road for more than 30 years.
In an interview with BBC Coventry & Warwickshire Mr Canning said: "Foleshill is a microcosm of the world. I feel sorry for people who live in all white environments because they live in an unreal world.
"We're very fortunate in that all the immigrant communities start off here and it's a delightful area. Although we are a bit of a downtrodden area in many ways, people love the place."
Despite growing up in the country, Mr Canning said he always wanted to be a vicar in a busy city.
"It was very nice living in the Lake District but I wanted to live somewhere where things happened.
"I applied for a job in Coventry and it was a complete change; a very busy industrial area with a large Asian population. It's a wonderful job."
He said the diversity of Foleshill keeps him interested in the area, even after 30 years.
'Mad to be in Foleshill'
"This church welcomes people of all nations. I'm proud to be able to say that most of the minority ethnic community groups, mosques, gurdwaras and Hindu temples, started off in St Paul's church hall.
"I greatly respect the other religious groups in a way that some other Christians find very difficult.
"I know that under English law we're all equal."
The vicar said his move from a tourist area to an industrial city may seem an unusual step to some.
"There are easy places to live and you hear 'only people who are mad would go and work in Foleshill' but you never know what you're going to get and if you can cope with it it's absolutely fabulous. Something new happens every day."
The vicar's story is part of a wider BBC Coventry & Warwickshire series on the community of Foleshill running from 27 March to 3 April.