Square to be redeveloped ahead of the 2012 Olympics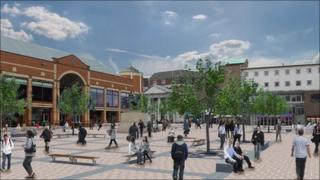 Coventry City Council has announced the final plans for the redevelopment of Broadgate in readiness for the Olympics.
The square, which has changed several times over the years, will be modified following a close consultation with the city's residents.
It will involve more trees and grass, a traffic-free zone and will make the statue of Lady Godiva more prominent.
Coventry's Ricoh Arena will be hosting Olympic football games and will be known as the City of Coventry Stadium.
Councillor John Mutton, leader of Coventry City Council, said: "We know how important Broadgate is to everyone so we have taken our time to get the plan just right - and I think it will be fantastic.
"Local people told us they wanted it to be traffic free, so it will be. There was also a call for us to make it as green as possible, so we have included as many trees as we can, which will be planted in the ground rather than in movable pots.
"And just round the corner we have re-worked our plan to de-clutter in front of the stunning Holy Trinity Church, so we it will now have grass in front of the flower beds."
More greenery
The main square will be covered in two shades of granite, accompanied by trees and benches for people to meet and congregate. In response to the public call for more greenery in the square, sections outside Holy Trinity Church will also be laid with grass.
Councillor Mutton added: "The new square will have lots of seating and we will arrange it sensibly so it is set up to enable people to be sociable and to talk to each other.
"At the moment lots of the seats in the city centre turn their back on each other so it is hard to talk to anyone. People like to sit in Broadgate, for a chat or to watch the world go by so we wanted to encourage that by thinking carefully about the seating."
Coventry City Council still wants to hear views on what trees should be planted and what type of events should be held once the transformation is complete.
The development is part of a £7m plan that also includes filling in two subways and improving the route to the railway station.