Deadline pledged for Coventry asylum case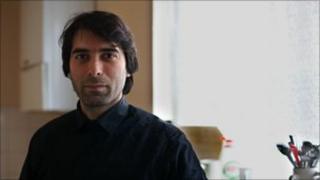 The UK Border Agency has pledged a deadline of this summer to conclude the asylum case of a man in Coventry which has been going on for 11 years.
Said Gholampour came to the UK from Iran under the asylum system, which aims to protect people fleeing persecution in their own country.
He said the Iranian regime was "very dangerous" and said his 19-year-old cousin was killed there.
Coventry North West Labour MP Geoffrey Robinson has taken up his case.
Mr Gholampour was given a National Insurance number and was allowed to work when he first arrived.
However, in 2005 his asylum claim was refused and his file was closed.
He was allowed to appeal and made a new claim, but he is now still awaiting a final decision.
'Free time'
The 39-year-old is not allowed to work and is given £35 in vouchers each week for food.
Mr Gholampour told BBC Coventry and Warwickshire, as part of its series on the commnuity of Foleshill, that he wanted to work and said he struggled to afford anything.
Mr Gholampour said: "If I need to buy clothes or shoes, how can I? Sometimes I finish that money and on Wednesday and Thursday I have nothing."
He added: "Because I have free time every day, I just imagine about my future. Sometimes I feel I am mad."
A UK Border Agency spokesperson said: "We are systematically resolving the backlog of asylum applications on a case-by-case basis.
"The vast majority of these have now been dealt with. But we aim to conclude those remaining - including Mr Gholampour's - by summer 2011 or earlier."