George Eliot's Coventry home 'should have plaque'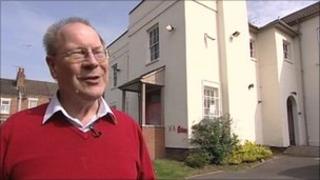 Coventry should do more to highlight its links with George Eliot, an organisation which promotes the author has said.
Mary Ann Evans, pen name George Eliot, lived in Foleshill Road between 1841 and 1849.
The house is currently used as a Bangladeshi education centre and has no public reference to its famous former inhabitant.
The George Eliot Fellowship is calling for a plaque to be installed there.
Coventry City Council said it would support steps to have a plaque.
Eliot is famed for her books Middlemarch and Mill on the Floss.
Plaque appeals
John Burton, from the George Eliot Fellowship, said: "There are many people who would say Middlemarch is the greatest novel in the English language so we really ought to be doing more in Coventry to recognise that."
Graham Lewis, from the Coventry Bangladesh Centre, said: "A notice board on the fence outside would be a great thing so the local community could get to know more about what happened in the building and the heritage of the property."