Milly Winter sings in the Spring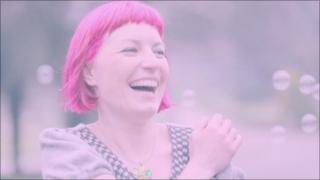 Singer-songwriter Milly Winter is adding to the bright sounds of Spring as BBC Coventry & Warwickhire's Band of the Month for April.
Milly, who's from Warwickshire, released her debut EP in November 2010 and it was produced by Grammy and Emmy award winning producer Kipper Eldridge.
Her songs blend a wide variety of styles and influences to create classic pop songs with a contemporary twist.
Making the live shows even more special, Milly has now formed a band.
BBC Coventry & Warwickshire wanted to find out more about the the new band and the story of Milly's music.
How did you get into music?
I was brought up on Queen and Led Zeppelin. I remember singing along to guitar solos in the back of the car on the way to family holidays. I started learning classical guitar when I was 8 years-old, but soon realised that I could strum along to accompany myself on my favourite pop songs.
When I started finding music for myself, I really started getting into classic artists like the Beatles, Bob Marley, Kate Bush and Joni Mitchell. I have always written a diary too, so what evolved was a kind of musical diary. Most of my songs still are in that vein, perhaps with a bit of poetic license here and there!
Where do you find inspiration for your music?
My inspiration really comes from my own eclectic taste in music. I would find it really difficult to stick to one musical genre. Lyric-wise, I tend to use my own thoughts and experiences to guide my songwriting.
I suffer from writers block sometimes too - and then I'll have the opposite! I am not someone who can write a song on demand. Although I did once write one to celebrate the opening of a friend's new bathroom...
What are your hopes for 2011?
I now have a full band together, so I am hoping for a lot more gigs and to increase my fanbase and spread the word! This month, I am going to record another track that is on our setlist at the moment, so I will get that out on iTunes with the six from the EP that are already available there.
I am also working on videos for all of my recorded tracks so far. The first one is on my website and is for the song Bubbles.
How would you describe the music on your EP?
The music on my EP is quite wide-ranging in terms of genre. There are six tracks and they cover nearly everything from reggae to chill-out, from pop-rock to ballad. The one thing they have in common is that they are all catchy. I am very pleased with the production and sound on this EP.
To find out more about Milly Winter, visit her website by clicking on the link below:
How to get featured
BBC Coventry & Warwickshire's Band of the Month feature aims to showcase the best local musical talent. Songs by our featured artists will be played on Introducing with Martin Winch every Friday and Saturday (2000-2100).
If you think you and/or your band are worthy of a feature then contact us.
Email the details to us here at BBC Coventry & Warwickshire:
Or use the postal address:
Martin Winch, BBC Coventry & Warwickshire, Priory Place, CV1 5SQ.
All we require is a short biography, a couple of decent quality colour images (in jpeg format) and a copy of your music. If you are emailing your music then please ensure we receive them as mp3s.