Teacher's strike closes Coventry Tile Hill Wood School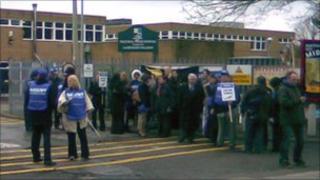 A Coventry school has closed as over half its teachers take strike action over academy status proposals.
Tile Hill Wood School has been unable to remain open after members of the NASUWT and the NUT teaching unions walked out for the one-day strike.
Both unions are worried about possible changes to pay and conditions if the school becomes an academy.
Head teacher Gina O'Connor said there were benefits to being independent from the local authority.
Talking before the strike, Ms O'Connor said: "Becoming an academy school means we get our resources in a different way which means we can spend them more autonomously."
The national president of the NASUWT, Chris Lines, said: "Teachers believe that schools should remain under local authority auspices because it's part of a family of schools, so there's proper planning and proper support for the school."
The chair of governors at Tile Hill Wood, Peter Wall, said they had been working to reassure staff who were "ideologically opposed to the whole idea of the academy".
About 15 schools in Coventry and Warwickshire have applied to become academies. Four of these have already been granted permission to change status.