Coventry cyclists in 30-day US challenge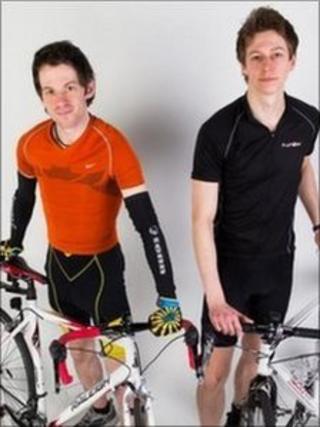 Many people have the ambition to travel across the US - maybe in a classic car along Route 66, but possibly not on a bicycle.
However, two friends from Coventry are to do just that, and all in 30 days.
Steven Prime and Dayle Walker are to cycle the 3,000-mile route for a charity that improves the lives of coffee farmers and their families.
They are already in training for the trip, which begins on 25 July.
'Coffee Kids'
Steven, who is the owner of Esquires Coffee House at the Coventry Transport Museum, is no stranger to adventures, having cycled from Lands End to John O'Groats.
He is also determined to help a charity that is close to his heart, saying: "We're going to be cycling across America, 3,000 miles in 30 days, looking to do an average of about 100 miles a day.
"We're doing it for a charity called Coffee Kids who help coffee growing communities in Central and South America.
"I think it's 125 million people around the world who are directly connected with the coffee industry. We're doing it to raise awareness of these communities and what they do to get the product to our coffee cups."
Steven may be an old hand at cycling, but Dayle is a relative newcomer to the pastime and admitted to some reservations.
He said: "I've never been keen on cycling; I'm not even keen on coffee. It's just not my cup of tea!"
However, now he has begun the training, Dayle is really enthusiastic about the project, saying: "It's great because we'll be giving opportunities for children that just don't have the chances that we do."
Eleven states
The duo will begin their journey in Surf City, North Carolina, and aim to finish in Santa Monica, California, on Saturday, 27 August.
A support car will be following and filming the journey every step of the way (and they will be resisting temptation to ride in it if they get tired).
Steven and Dayle will also be documenting their time with a blog, which they have already begun.
Their route will take in 11 states, including Georgia, Texas, Mississippi, Arkansas and Arizona.
Steven is particularly looking forward to seeing Oklahoma as he lived there for a year while at university.
The temperatures should be hot most of the way, as some of the roads will take them through deserts, but they are hoping that the storms will stay away.
Steven said: "Going into Oklahoma and Texas during tornado season, we're going to have to be checking the weather forecasts on a daily basis and planning what we're doing."
In Santa Fe, New Mexico, they will be cheered on to the final leg by patrons and supporters from the charity.
Such an intense journey could test long-standing friendships, but Steven said: "We both work well together, especially on this sort of project, and I know we'll pick each other up when we get down. We're really looking forward to it and we're so excited."
Further information on the journey and their blogs can be found on the Cycle America 2011 website.