More girls join the scouts in Coventry than ever before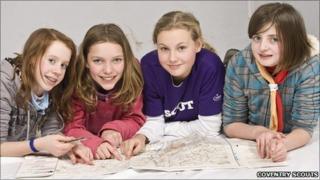 For the first time ever, the number of girls joining the scouts in Coventry has topped the number of boys.
Overall, 4,330 girls and 3,796 boys joined throughout the UK and 50 more girls than boys joined in Coventry.
The number of boys joining has not altered greatly over the past year, but there has been a surge in girls becoming scouts since January 2010.
This turnaround is also reflected nationally and the female membership in Coventry has risen 127% since 2005.
Simon Daley, from the Coventry Scouts Association, said: "With the adventure and the experience we're providing these days, the girls are getting more out of it.
"They're getting something different that the schools can't offer.
"And because the lads are here, it's another factor - it's competition between the girls and the boys."
Reflecting the growing mix of scouting groups, there are now female scout leaders as well.
The number of people on waiting lists to join scouting groups in Coventry is at a high and this means that there is a need for more adult leaders too.
Talking about her experience as a scout in Coventry, one member, Holly, said: "I think there are so many more opportunities and camps.
"I used to be a girl guide, but then I found that if I did scouts, I could get so much more out of it."
However, this has not affected the membership of the girl guides, as it seems there has been an all round surge of interest.
Angela Milln, trustee of Girl Guiding UK, said: "There's a resurgence in demand in general for the kind of programme that both guiding and scouting offer for girls.
"The activities and developmental opportunities we offer are very similar, but it's just a different environment, so it's down to individual choice."
The scout movement was founded in 1907 by Lord Baden-Powell and there are currently more than half a million members.