Poster marking Edward VII's 1863 wedding on display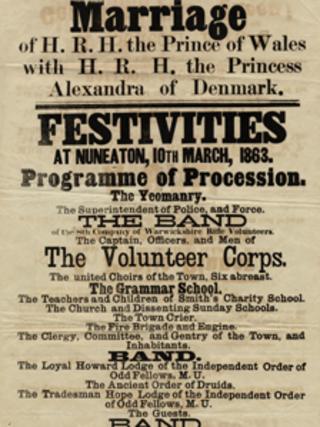 A poster marking the wedding of Edward VII in 1863 is going on display as part of celebrations for the marriage of Prince William and Kate Middleton.
The poster, housed at the County Record Office in Warwick, marks the marriage of the then Prince of Wales to Princess Alexandra.
It advertises celebrations to be held in Nuneaton, on 10 March, including processions, balls and dinners.
It will be on display from Monday until 3 May at the record office.
The wedding of Queen Victoria's son, who became king in 1901, for was also marked by a balloon ascent and a beacon fire on Tuttle Hill.