Coundon Business Watch scheme is launched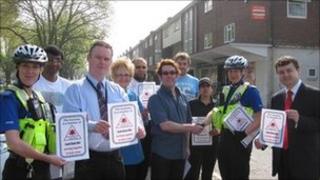 Coundon businesses have joined forces with police officers to combat anti-social behaviour caused by youths gathering outside shop fronts.
More than 20 shops along the Holyhead Road parade in Coventry have signed up for a "Business Watch" scheme.
Businesses will receive regular updates from Sherbourne neighbourhood policing team and also crime prevention advice.
A "ring-around" system will see people phoning each other with information about suspected shoplifters.
PCSO Hilary Mason, who set-up the Holyhead Road scheme, said: "Business Watch is a valuable tool in the fight against commercial crime and anti-social behaviour.
"Overall it is hoped that the scheme will improve security, deter would-be offenders and prevent crime and anti-social behaviour."
Rajvinder Dhillon, of Coundon Fish Bar, said: "Groups of youths congregating outside our premises can be quite intimidating for staff and customers but I feel this new scheme gives a direct line to local officers and confidence that the situation will continue to improve."