Mass picnic in Alcester for royal wedding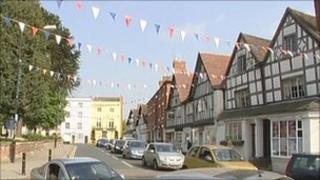 About 4,000 people turned up for a mass picnic along the high street of a Warwickshire town to celebrate the royal wedding.
Revellers taking part in the party in Alcester brought their own food, tables and gazebos.
High bailiff of Alcester Nick Dearling said he had hoped people would come and enjoy themselves.
Elsewhere, about 20 street parties were held across Coventry to celebrate the wedding.
Mr Dearling added: "Members of the town's Court Leet, which traces its history back to medieval times, were greeted with a cheer as they marched along the packed high street.
"Alcester has a long tradition of marking special royal occasions and we wanted to make sure that this historic day was marked in a proper and fitting way."