In Our Coventry Home concert could be cancelled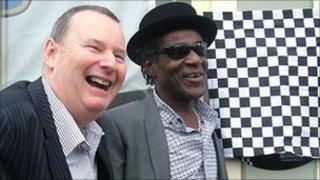 A concert featuring well-known Coventy music acts will be cancelled unless more tickets are sold by this weekend, organisers have warned.
The gig, In Our Coventry Home, is scheduled to take place in the ruins of Coventry Cathedral on 27 May.
The Neville Staple Band, Hazel O'Connor, Pint Shot Riot, and Panjabi MC are on the set list.
Profits were set to go towards improving the 2-Tone Central music venue at Coventry University.
Organisers now fear the outdoor gig, which would feature a marquee and beer tent, will make a loss.
Cream of Coventry
Neil Twigger, from 2-Tone Central, has appealed for the bands involved to drum up support after crisis holding talks with the university.
He said: "We all really want this gig to go ahead and it would be a real shame to cancel.
"This is an amazing gig with the cream of Coventry's talent so please help us out here."
Organiser Paul Roberts said: "This concert is all about showcasing Coventry, its bands and its cathedral."
The full line-up also includes The Suterraneans, The Ripps, The Tones, The Session and DJ Nutty Beats.
Tickets for In Our Coventry Home cost £20.
Pete Chambers, 2-Tone Central director, said the gig would be "a pure delight".