Leamington Spa railway's 1930s waiting rooms restored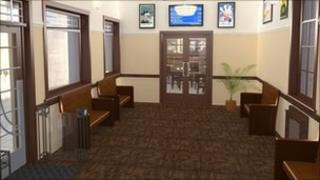 Two refurbished waiting rooms have been unveiled as part of a £395,000 upgrade at Leamington Spa railway station.
Chiltern Railways has restored the original 1930s teak wooden fittings and stripped back the fireplaces.
It has also added automatic doors, upgraded the toilets and staff rooms and added 80 new parking spaces.
The Friends of Leamington Station volunteer groups paid for heritage posters, Great Western Railway reproduction mirrors and a new hearth.
The final stage of restoration will be carried out on the original buffet area on the southbound platform which is due to reopen in July or August.
Volunteers for the Friends of Leamington Station have been working since 2005 to improve the appearance of the railway station and in 2009 the station's garden, which they help maintain, was awarded the title of Best British Garden in a Country Life magazine award.