Coventry Conservative wins after conceding defeat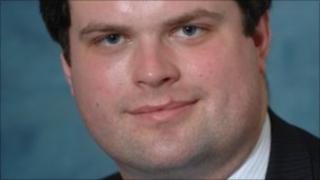 An inquiry has started after a Coventry Conservative councillor conceded defeat in the council election, only to find out later that he had won.
At one stage the Tory group's deputy leader Kevin Foster admitted defeat in Cheylesmore to Labour's Alison Gingell.
However, more boxes of votes were found and he held on to the ward. Mr Foster said it was the "sort of accident... you'd expect in a banana republic".
Labour gained five seats from the Tories to stay in overall control.
Mr Foster was told before the official declaration that he had lost his seat and congratulated his opponent.
'Serious questions'
But after the other ballot boxes came to light, he had 2,493 votes in total, with his Labour opponent polling 2,188.
It is believed about 1,000 votes went missing.
The council has been investigating.
Mr Foster said: "That is the sort of accident, if I can put it that way, you'd expect in a banana republic, not in Coventry."
He said there were "serious questions to be asked about what went wrong".
He added: "To be fair I don't blame the controlling group. I understand they've ordered an inquiry and certainly it has my full support."
Senior Labour councillor Lynette Kelly, who retained her seat, said: "There's going to have to be a big inquiry into how that happened.
"It shouldn't be a situation that a whole ballot box can go missing and then be found later on."
Labour has 35 seats to the Conservatives' 17 in Coventry, where 18 out of 54 seats were contested.
Elsewhere, Labour wrestled control from the Conservatives in North Warwickshire.
Lib Dem losses
All 35 seats were contested on the council, where Labour took three off the Tories to win 18, leaving the Conservatives on 17.
The Conservatives gained two seats in Stratford and retained control.
They have 34 of the 53 seats while the Liberal Democrats lost three and have 16. Seventeen seats were contested.
The Conservatives gained an extra seat in Rugby and kept control of the council.
At Warwick Council, the Conservatives took power after no party had been in overall control previously.
Their total rose from 23 to 25 while Labour fell from nine to eight.
The Lib Dems kept all nine of their seats.