Landlord gets suspended jail term over Coventry house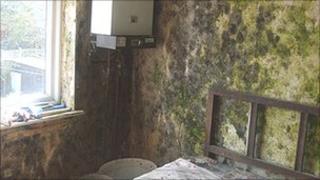 A landlord has been given a six-month suspended prison sentence for allowing his tenant to live for more than two years without hot water or heating.
Steven Boote, 40, from Galley Common, Nuneaton, Warwickshire, was convicted of failing to carry out proper health and safety work at the house.
David Whorlow lived in danger of a major gas leak or explosion at Rothesay Avenue, Coventry.
Boote was convicted of three offences under health and safety legislation.
In a statement by Mr Whorlow, released by Coventry City Council, the tenant described how he had no hot water, no heating, concerns over faulty electrics and gas appliances, rising damp and mould throughout, leaks to plumbing and collapsed ceilings.
Boote, who was found guilty at an earlier hearing, was given a six-month prison sentence suspended for a year and ordered to pay £30,000 towards prosecution costs. Magistrates in Coventry also ordered him to carry out 200 hours of community service.
The sentencing followed a joint prosecution by the Health and Safety Executive and Coventry City Council.
Boote, who owns more than 45 rental properties, had failed to carry out gas safety checks or repairs or improvements in the five years since he had bought the Rothesay Avenue house, the court heard.
Mr Whorlow said in the statement: "Having lived in appalling conditions for so many years has had a great impact on both my physical and mental health...
"To keep warm I would go to bed with a hot water bottle and for a number of years I have lived on microwaveable food as the cooker was no longer operational.
"I had no worktop areas to prepare food."