Bishop to bless Warwickshire horses to help save church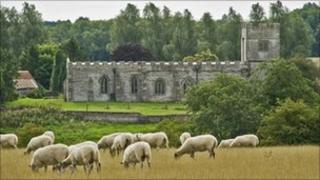 The Bishop of Warwick is planning his first horse blessing to raise funds for a rural Warwickshire church.
The unusual ceremony will involve an outdoor service in Chesterton followed by a rural hack.
Organiser Lynne Smith is hoping the "very Vicar of Dibley" event on 21 May will help with much-needed restoration.
The Harbury Children's Choir will take part in the service, to be held beside the crumbling boundary wall in fields beside the Church of St Giles.
Ms Smith said: "I don't even worship at the church as such but feel it's an oasis that has to be preserved and used. It's a magical place as much as a religious place, with the lake and the fields providing the perfect location for a country church."
Vacant vicar position
Each pre-booked horse will cost £5 for the event including hack, or £8 can be paid on the day.
The need to raise conservation funds is also motivated by fears for Chesterton village, as Ms Smith explained: "Ours is one of five parishes with no vicar and with a minimal congregation and small community we really fear it could close.
"We have no village hall and I'd like to see the church saved as a social focus for the good of future generations."
On hearing of the horse blessing idea, the Bishop of Warwick volunteered to lead the service.
'God's creatures'
It will be the first time the Right Reverend John Ronald Angus Stroyan had conducted a group horse and rider blessing.
He said: "I'm really looking forward to this event. It's good to be out in God's creation with his creatures. It will be a great joy to bless the horses and the riders. It's so good to have country events like this."
Organisers are keen to emphasise the afternoon as a family event, with the fun ride being a safe route on fields and private roads, suitable for all abilities.