Coventry's Tales From The Towers: High-rise city living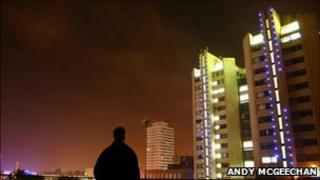 Coventry's tower blocks were an iconic statement in the city's post-war redevelopment.
BBC Coventry & Warwickshire has been gathering stories from a range of people who live and work in the flats that remain an important part of the cityscape.
On radio and online we are uncovering stories of opportunity, architecture, investment and passion.
The project brings together stunning photographs and insightful interviews.
Rooms with a view
From 16 May, BBC Coventry & Warwickshire will broadcast a special series of interviews and reports from some of the city's tower blocks.
Some of the topics in the series include:
Rooms with a view - of up to seven counties
The future for 1960s buildings
Investors dream of high-rise profits
We will also be creating a gallery that shows residents' views through the seasons. To contribute your photographs of high-rise living, please email coventry@bbc.co.uk.