Fish deaths in Coventry blamed on warm spell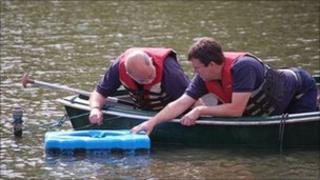 Air pumps have been installed in a Coventry nature pool to stop fish dying in hot weather.
Swanswell Pool is a habitat for fish and wildlife but its shallow depth in places and the recent warm spell has been blamed for fish deaths.
To restore the pool to health park rangers have installed aerators to get oxygen down to the lake bottom.
A spokeswoman for Coventry City Council said it was hoped fish food such as insect larvae and snails would return.
She said once the insects began living on the bottom of the pool the fish would have more to eat and grow more quickly.
She said the oxygen should also help make the fish more active in their search for food.
Without oxygen the lake's self purification capability is reduced and the snails, worms, and bacteria which help keep a pond clean cannot survive.
A layer of sediment forms at the bottom which serves as a fertilizer for weed and excessive algae growth, reducing the available oxygen in the water.
Councillor Lindsley Harvard, cabinet member for city services, said: "We have been aware of the problem at Swanswell Pool, and unfortunately when we get periods of dry weather, the fish stocks do suffer from lack of oxygen.
"This problem will be greatly improved with the installation of these aerators."